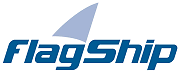 Visual FlagShip 8 for Linux
(Release 8.1.05)
FlagShip is ported to different operating systems. Besides for MS-Windows and commercial Unices, a port for Linux is available here. This port requires:
32bit or 64bit Linux operating system kernel 2.6 to 4.x (with gcc 4.1 and higher, glibc 2.5 and higher)
512 MB RAM (more is recommended for perfomance)
300 MB free hard disk space
There are different ports of FlagShip for Linux available, select one:
Visual FlagShip 8 for 64bit Linux
supports 32bit and 64bit Linux systems and creates native 64bit or 32bit executables (optionally by using the -64 or -32 compiler switch)


Read this booklet (pdf) for requirements and step-by-step instruction, or click on the image left

Visual FlagShip 8
for 32/64bit Linux
Now, if you wish to test FlagShip for free without any risk:
Register for the free, fully featured Test/Eval version
by simply fill-in this form on
/eval.html
Your privacy is of course guaranteed.
You will get the key by e-mail.
Enjoy. We grant free technical support for up to 6 months, see further info here.
---
Since FlagShip translates the Xbase code to C code as an intermediate step and requires object compatible libs during the linking stage, the used C compiler, utilities and libraries must be chosen with great care, otherwise upredictable errors may occur. The C compiler is required only in the developing phase, it is not required for the user of your application, since FlagShip creates native executables.

Check the Linux kernel version by "uname -a", gcc compiler with "cc -v" and glibc with "/lib/libc.so.6" .

** Mozilla announced that the Firefox web browser no longer supports the FTP protocol (from Firefox 90), as does Google and other browsers. You may use the ftp command ("man ftp") or any alternative software for downloads.

---